Chuck Thomas, Senior Pastor
Rev. Chuck Thomas, senior pastor of Rochester Free Methodist Church, joined the RFMC family as an associate pastor in 2014. He has served as senior pastor since April 2017. Before making his move home to Beaver County, Pastor Chuck served as a pastor in the Free Methodist Church in Portland, Maine for six years and New Cumberland, West Virginia for 23 years. He holds a Bachelor of Arts degree in Religion and Philosophy from Roberts Wesleyan College.
Pastor Chuck has extensive experience working with children and youth programs, having led countless VBS and summer camp programs. Most notably, he has developed successful youth outreach programs at each church he has pastored. He channeled this experience to begin Big House Ministries, an outreach program for the youth in the Rochester community and surrounding areas.
Chuck and his wife, Norma, have been married for more than 35 years. They have one son, Josh, and four incredible grandchildren– Layla, Kai, Declan, and Ruby. In his free time, he enjoys golfing and spending time with this family.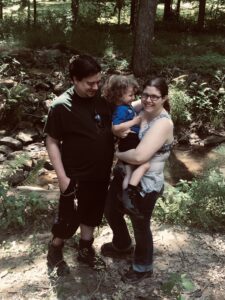 Jennifer Thorn joined RFMC in January 2020 as the Children's Worship leader, and a Local Ministerial Candidate. In addition to her ministry work Jennifer has also been tasked with the role of Social Media Manager/ Pastor's Administrative Assistant. She is a graduate of Rochester Area High School, and attended CCBC were she pursued an education in Early Childhood Development.
In the past Jennifer has worked with children and youth both professionally and in a volunteer capacity at other local churches, and daycare centers as well as running an online ministry that helped people overcome depression and anxiety through relationship with Jesus. Prior to coming here Jennifer worked for 2 years in Life Insurance before feeling called back to ministry and began pursuing a life of fulltime service to God and His people.
In addition to ministry work, Jennifer is a devoted wife and mother spending almost all her free time with her family. Jennifer and Nick have been married for 9 years, and welcomed their son in October of 2016. As a family, they are eager to see where God is leading them and excited about the work He is doing in each of them during the journey!